Assess the compatibility of your applications for Windows 10 and Server 2016 (or Windows Server 2012 R2). Readiness is cloud-based software that automates the assessment and conversion of your entire portfolio of applications.
All infrastructure included,
no extra charge.
Previous software solutions required dedicated hardware, database servers and specialist technical expertise. With Readiness, you need only a browser—any browser, any OS—and nothing else. Manage your desktop portfolio from your desktop, from a tablet or even your phone.
Being cloud-based SaaS, Readiness also employs a consumption-based pricing model. Pay only for what you use, when you use it.
Readiness is fully cloud-based, so it requires

zero infrastructure for assessment

or

conversion.

No client requirements or dependencies of any kind (other than a browser and Internet connection).
Use your own custom-designed build and server configurations.
Software updates are constant and transparent to users.
Available anywhere/anytime.
Easily scalable.
Introduction to Readiness
Learn the fundamentals of what Readiness is all about and what it can do for you, in about 2 minutes.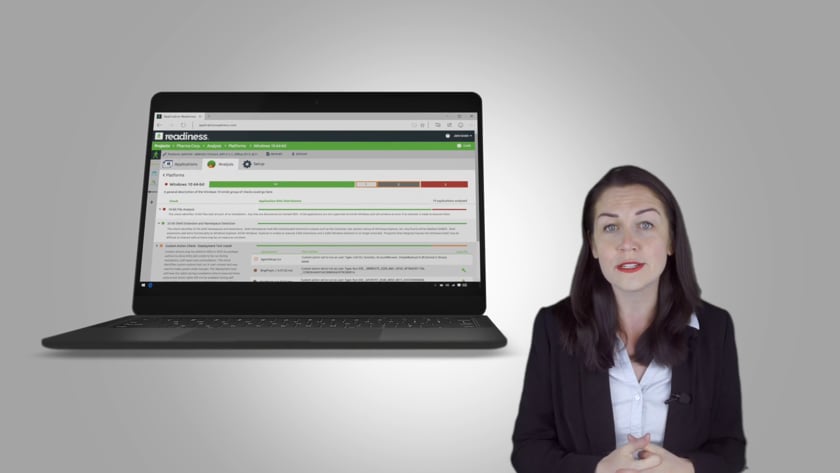 Assess Your Applications, in Real-Time.
If Readiness has a "killer feature", this is it. Dynamic Platform Assessment is a risk-reduction tool, a flexible approach to creating "what-if" scenarios.
A Real-Time Decision Support Tool
Readiness accurately predicts the scope of problems that you'll encounter when installing new Windows updates. However it's not a static report. Since change is constant and more frequent in this era of "Windows-as-a-Service", Readiness can be used to re-assess your scenario as often as you need to, because the assessment is done in real-time.
Simply drag the markers to set up the what-if scenario—the situation you want to assess for application compatibility. Instantly the results are shown—the impact to your current portfolio of applications (that you've previously uploaded) if you migrate to the specified:
Operating system update
Browser
Office version
Virtualization technology
.NET version
You can set the exact version of Windows you are migrating from and to—even if migrating between different branches of Windows 10.
Let's talk about Conversion.
EXE to MSI
MSI to AppV
MSI to MSIX
Validation, Automated and Supervised Testing
Customization, Tuning and Documentation
Designed and architected as a modular, extensible platform
Input format: anything that installs on Windows*
Supported Output formats: MSI Installer, App-V, App-X, MSIX
Support for:

custom installs, builds and packaging processes
automated dependency management
custom documentation and reporting

Certified, deployment ready packages (fully tested and documented)
Manage ongoing updates, patches, BAU.
Now that you have converted or packaged your applications, you can automatically ensure that they are up to date, and compatible with the latest patches, new or changed applications or Windows feature updates.
Application testing made available anywhere, through a browser
Support for multiple testing, deployment builds
Algorithmic testing for "What if" scenarios
Automated and Supervised run-time testing
Fully documented process and results
Create and compare testing plans across versions of Windows, builds and application portfolios
Simple integration into existing projects and power-shell commands
How do we provide a tool that can provide detailed assessments of many applications simultaneously, while being constantly aware of the changes occurring across multiple software platforms?
This tool must be able to query a massive database (over 300,000 rules) which is constantly updated with new information on a daily basis, and process this information immediately.
It couldn't be done without being cloud-based. Hosting the system using Microsoft's Azure platform gives us the processing power and of multiple high-end servers, and the ability to make the system smarter with each new application analyzed.
Of course, a close working relationship with Microsoft doesn't hurt either.
What it means is ultimate visibility of what's ahead of you, giving you time to react in the most cost-effective way to avoid those potholes.
Project Dashboard
The project dashboard shows all current
application groups (departments, clients, etc.)
Every customer has their own private application storage space
in an SQL database, which can be located in any region
Loading Applications
This is the migration scenario (OS, Office suite, browser and .NET version, plus
virtualization technology) that your applications will be measured against.
Now let's add some applications...
Evernote.msi
GalaSoft.MvvmLight.4.1.24.0.msi
GoogleSketchUp8.msi
HCLL_x64.msi
Information@Work 4.67.msi
InstEd-1.5.15.26.msi
+ 10 more...
Uploading...
The "Red Amber Green (RAG)" status gives quick insight
into the suitability of uploaded applications (MSI or EXE)
for migrating to the current environment scenario.
Red means there is at least one incompatibility that
cannot be addressed to make the application suitable
for migration.
Amber applications have at least one issue, but good
news: they can be remediated, and automatically too!
For all green applications, you can proceed without worry.
Readiness can easily scale to
thousands of applications.

Pay only for what you use,
when you use it.
Application Detail & Suitability
Drill down into the details of each
application.
Automatically fix any applications that can be fixed.
You can also convert any application
to App-V format, automatically.
Application Compliance
Readiness also dynamically analyzes your applications for compliance with corporate
and legal standards. Are you covered, supported, legally and commercially compliant?
Dynamic Platform Assessment
The Dynamic Platform Assessment report lets you predict
the scope of problems with migrating to Windows 10 or
installing new Windows 10 updates and patches.

Where are the problems?
What is the potential impact?
Drag the slider to set the version of Office, IE, .NET and the
virtualization technology you want to measure against.
Select the version of Windows that you are migrating
from and to. When migrating to Windows 10 (or from
one Windows 10 build to another) a sub-branch allows
selection of up to 4 different monthly builds.
Results are shown instantly, with issues again grouped as Red, Amber or Green.
Take it for a test drive today.
See what it's like to asses the suitability of your application portfolio for migration to Windows 10 today. Assess your first 25 applications on us.
If you'd prefer a one-on-one demo, we'd be happy to oblige.