Better visibility =
faster migration.
more time to plan.
NO SURPRISES.
Assess the readiness of your application portfolio against any Windows 10 release in minutes, not months.
Automatically remediate and convert. Achieve continual compatibility, suitability, security and quality standards.
Do it all on-demand, with no infrastructure and no outside specialists required.
Change. Get ready for it.
Windows 10 compatibility assessment and conversion, done in the cloud.
Windows 10 is here, and your applications and environment need to be ready for the unique challenges of the new Windows-as-a-Service model.
It's not just about compatibility, but platform Readiness—not just getting your applications to work, but keeping them secure, updated and working, through ever-accelerating change.
Readiness is the world's first entirely cloud-based (Microsoft's Azure platform), dynamic, on-demand system for automatic application assessment, remediation and conversion of an enterprise's entire portfolio of applications. It facilitates security efforts by enabling the easy and fast migration of apps to current platforms.
For the first time ever, anyone in IT can quickly and easily prepare compliant applications ready for deployment with no hardware or software dependencies, no database, and no specialised skillset.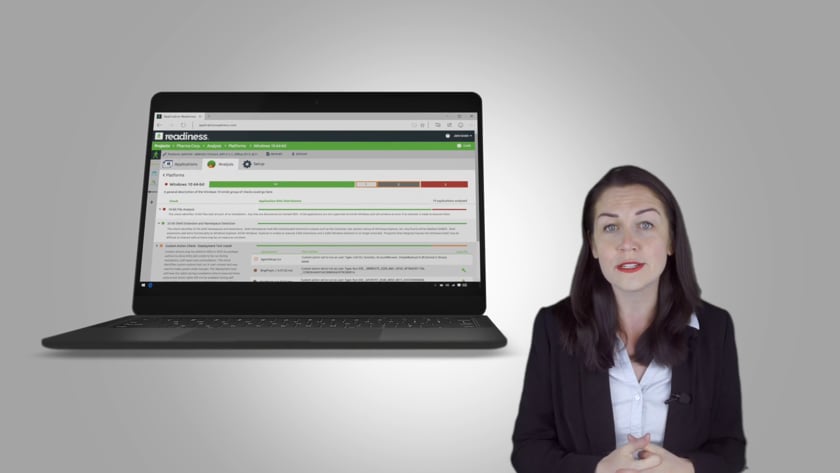 By eliminating the need for dedicated hardware, database servers, backup systems, and specialists, Readiness dramatically reduces the cost of packaging applications for security patching, feature updating and migration to Windows 10 (and between any Windows 10 branches).
Readiness provides application readiness assessments in real-time, for instant, dynamic answers to what-if scenarios. Since it requires no set up, a state of application readiness can be achieved in minutes, not months.
It does everything you need it to. In real-time.
Readiness is not what you're used to. It's cloud-based. Previous software solutions required dedicated hardware, database servers and specialist technical expertise. With Readiness, you need only a browser—any browser, any OS—and nothing else. Manage your desktop portfolio from your desktop, from a tablet or even your phone.
Not only can you be up-and-running in minutes, you benefit from a continuously-updated database of rules and the power of a network of servers (not to mention the powerful ChangeBASE engine). This means that results are immediate—right after you drag and drop your applications into the Readiness web application.
What if you knew your applications were 100% ready for a new OS migration or update months before deployment? What if you knew today?
What if you knew right now?
What will YOU do with all the extra time?
Assess 25 applications on us.
Evaluate any application to assess compatibility with the target operating system.
Windows XP, 7, 8, 10, Server 2003 and 2012. Edge and Internet Explorer 6-11.
Check the suitability for Microsoft Cloud.
Know which apps can be converted to avoid wasting time.
Automatically fix, tune and transform your applications.
Package using unique settings for special, regional or business unit requirements.
Apply industry best practices.
Bulk loading.
Auto assessments.
Automatically fix issues, including poorly-written MSIs.
Automatically convert all applications, including those with legacy setups

Microsoft App-V
Symantec SWV
VMWare
ThinApp
Citrix XenApp
Microsoft App-X
MSIX
Automatically ensure converted and packaged applications stay up to date and compatible with the latest patches or Windows feature updates

Application testing made available anywhere, through a browser
Support for multiple testing, deployment builds
Algorithmic testing for "What if" scenarios
Automated and supervised run-time testing
Fully documented process and results
Create and compare testing plans across versions of Windows, builds and application portfolios
Simple integration into existing projects and PowerShell commands
Assess 25 applications on us.
The future is here. Now anyone in IT can prepare business-compliant applications ready for deployment with a simple, web-based interface.
Readiness makes packaging applications for security patching, feature updating and migration to Windows 10 (and between any Windows 10 branches) efficient and affordable while reducing risk—and stress.
Now you can have constant visibility to prepare your applications for updates, avoid nasty surprises and stay in a state of continual application readiness.
Zero infrastructure required (for assessment

or

conversion).
No client requirements.
Use your own custom designed build and server configurations.
Consumption-based license model. Pay for what you use.