Readiness provides many benefits over traditional methods of assessing the compatibility of your apps when migrating your OS, by virtue of our unique cloud-based platform.
Because it provides results immediately, requiring only a browser, Readiness eliminates the barriers to always knowing your applications are installable, will run as expected, will update and then uninstall cleanly, and are commercially and legally compliant.
Readiness goes beyond just application compatibility, allowing you to achieve a state of continual Readiness.
Your applications have to work on Microsoft Windows 10 and Server 2016. While most applications should work, some will require changes to their installation routines.
You don't have wait long until the next security crisis. Keep your application portfolio up to date and also ensure that you have the information you need to plan for potential conflicts or patch issues.
Virtualisation and VDI platforms will play an increasingly large role in your deployment strategy. Choose the platform for your portfolio and ensure that each application is right for your chosen virtualisation technology.
Compliance with corporate standards ensures a faster, more consistent deployment. Troubleshooting is quicker, and future changes and updates can be performed with confidence.
A state of continual Readiness means you're always ready for future Windows releases.
Migrate as fast as you want without worry. Increase security and reduce risk.
When you can see what's coming, there are no surprises.
Readiness is the world's first entirely cloud-based, dynamic, on-demand system for automatic application assessment, remediation and conversion of all your applications. It requires no infrastructure or investment.
Typical software for assessing application compatibility requires large capital investment in dedicated hardware, software, setup and training. It all has to be maintained, and it takes time to get set up and running.
Competitive solutions were not designed with rapid Windows build deployments in mind. Assessing your applications for Windows 10 is based on a single generic build, so each month the assessment becomes less and less accurate.
Readiness is designed for the modern paradigm of Windows-as-a-Service, with new builds released on a monthly basis. Regardless of your current Windows release, you can ensure they work with the latest OS, and maintain your company-wide security.
All releases of Windows 10.
Ensure 100% compatibility when migrating from or to every build of Windows 10.
More accurate software asset compliance.
Done by real humans on-demand, our approach is quality, not quantity.
When you need a perspective on the commercial and legal restrictions of deploying application packages, we use a team of real people to provide the data specifically for you. We'll do the research, including talking directly to the vendors and have the answers usually quicker than you provide us the applications for assessment.
The traditional way of checking if your applications are covered, supported and commercially compliant involves massive databases. The problem is that the information within is very quickly obsolete, given the number and nature of changes. It's no match for up-to-the-minute information.
Application compatibility, patch impact assessment, conversion and remediation used to be expensive, requiring significant infrastructure (dedicated hardware, database servers, backup systems).
Keeping up with migrations, platform changes and update releases to maintain a secure and stable environment is challenging. The complexity involved in producing business compliant applications has forced IT to use expensive tools and processes, and in many cases to outsource work to external specialists. With more new releases, patches and updates than ever before, turning those into compliant packages is getting more difficult.
Readiness is the world's first entirely web-based, dynamic, on-demand system for automatic application assessment, remediation and conversion of all your applications. It requires no infrastructure or investment, so you can start now, not later.
You'll have more time more time to make better decisions and take the actions needed.
Introduction to Readiness
Learn the fundamentals of what Readiness is all about and what it can do for you, in about 2 minutes.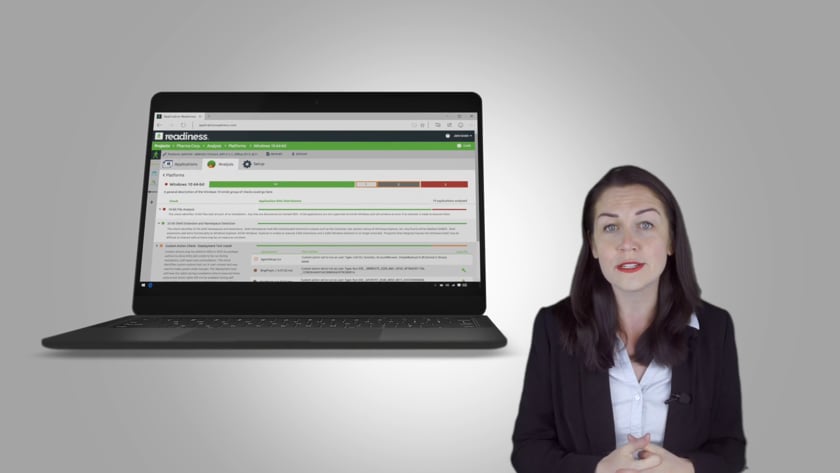 Who Benefits from Readiness?
CONTROL over cost, risk and security. Readiness frees up valuable time. Reduces complexity and expense.
REDUCED COST AND HIGHER OUTPUT. Reduces external expenditure by managing packaging in-house. Ability to deliver more, faster.
POWER to deal with a faster pace of software releases and maintain a cost-effective, continuous deployment service. By handing control back to the client, and ensuring client success, you become a more valuable partner/vendor.
When end-users enjoy a seamless, trouble-free experience, being provided continual software updates without even knowing they occurred, productivity and morale are maximized. The enterprise as a whole, and the bottom line, benefits.
Take it for a test drive today.
See what it's like to asses the suitability of your application portfolio for migration to Windows 10 today. Assess your first 25 applications on us.
If you'd prefer a one-on-one demo, we'd be happy to oblige.